Greenbay Press Gazette – "The Tambourine Lounge at the Holiday Music Motel hosts a pair of unique house shows in the next week… Delaney Davidson and Uno Lady perform separately as a one-man and one-woman band at 7 p.m. Oct. 22.
Although a native of New Zealand, Davidson is truly more of a citizen of the world. In constant motion, Davidson's touring schedule is relentlessly nonstop, including several June appearances in Sturgeon Bay for Steel Bridge Songfest. It's a mystery where he finds the time to continue to produce a growing arsenal of albums, artwork and cinematic music videos.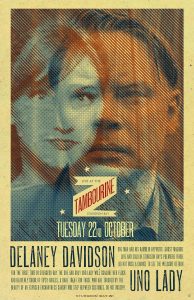 Winner of the New Zealand Music Award (its version of a Grammy Award) for Best Country Album in 2013, Davidson's latest release, "Swim Down Low," features co-writing credits with Victoria Williams, Eric McFadden and James Hall from Steel Bridge Songfest's collaborative songwriting "Construction Zone." Known worldwide as a premier one-man band, Davidson is said to be more like a one-man machine in concert and in the studio.
Uno Lady, aka Christa Ebert of Cleveland, creates her shockingly great variety of grooves, colors and styles using nothing more than her voice, a looper, small mixer and microphone. She not only makes this multi-dimensional sound in a studio a multitude of individual tracks for layering (as heard on her recent release, "Amateur Hour"), she also creates that sound live. Uno Lady is a one-woman choir, with a high, clear voice that she accompanies with more of her own voice, prerecorded on tapes and played and looped as she performs."