I met Oliver in 2011 at what was Zeller Gallery (Now Gallery One Sixty)  for the show GIRLS! GIRLS! GIRLS! There was awesome art by my friends, Angela Oster and Marlee Pickles. Oliver makes these amazing puppets. It was lovely and is always a good time when the Burger Boys play.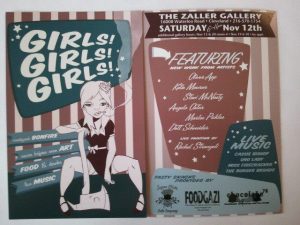 This Saturday July 26th, I'll be playing music at Oliver App's solo show, Closer. It is an earlier show so you can expand your fun Saturday night and pregame with me. I'll be going on at 7:30 pm.
Ps. there will be cookies.
The show is part of M.A.D. ART WALK- (Madison Arts District) which takes place at from 1pm-6pm (between Morrison Ave. & McKinley) on Madison. Facebook event page
Good Goat Gallery is located at
17012 Madison avenue
Lakewood 44107