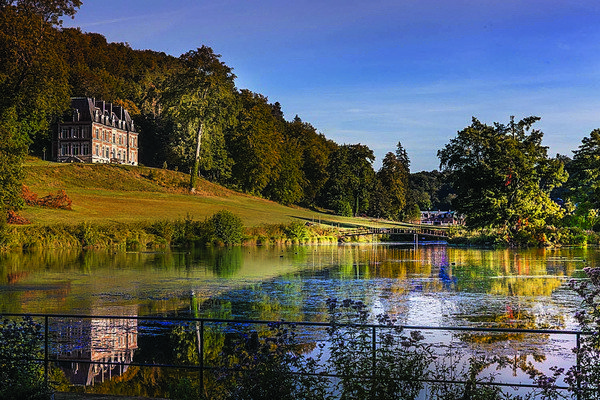 This September I am excited to have the opportunity to spend two weeks advancing my art in the Champagne-Ardenne region of France, after being awarded an artist residency at the Chateau d'Orquevaux. This castle on 40 acres the French countryside offers artists from all over the world a place with limited distraction and an abundance of natural inspiration, along with goats and chickens!
Visiting France has held a special place in my thoughts for some time. I am thrilled for this opportunity. I plan on writing lyrics, recording videos, and exploring my vocal range in a castle built in the 1700s. The tall ceilings and wine cellars are begging for me to belt in them and be drenched in their reverb. I am currently working on a project that adds visual elements to my performances. I have a deep appreciation and thrive from being submerged in nature. I plan to mash environmental footage with ethereal sounds to create a transportive, meditative effect.
All that said, I was slow to accept the residency because it comes with a financial cost that is challenging for me to cover on my own.
So I am coming to my friends, family and supporters to humbly ask for your help in covering the residency costs. Any amount matters, and is greatly appreciated. Donations will help me fly to Paris and cover ground transportation to the residency site, rent cars and equipment so I can perform in neighboring countries, and cover everyday expenses while I am there. Most valuable of all, your help will give me peace of mind.
I cannot thank you enough for any support you are able to give as I work toward this fantastic opportunity to expand my work. Please consider donating at GoFundMe.com/UnoLady
COST
My goal is to raise $5,000. (I've calculated I'll need $6,000 to cover all costs associated with the residency.) Residency fees (total of €2400/ US$2850) cover lodging, an artist studio, and some meals for 2 weeks. Much of the fees paid by artists go towards restoring the historical chateau. I have secured one grant, the Denis Diderot award of €750, which covers a portion of the cost of the residency. There is still a large amount to pay for, plus other expenses including the flight, getting me and my equipment to Paris ($1000), additional transportation/rental cars/trains ($1000 for 2-3 weeks) and food and other expenses (€50 a day for 2 weeks). I'll be able to book performances in Europe before and after the residency, which will help eliminate some of the stress about money.
WHAT YOU'LL GET
Any size gift will get you a download of a song written during the residency.
$50 will get you a thank you postcard from France (plus listed above).
$100 will receive a personalized thank you gift (plus listed above).
$500+ gets you a song written about almost any subject of your choosing (restricted song topics include most sports and hate speech) Plus all the perks listed above.*
I'm truly ecstatic for this opportunity. Thanks again for your support.
Please consider donating at GoFundMe.com/UnoLady
*Please note it will take some time (6+ months) from when the residency ends to deliver recordings, gifts, and songs.