Thursday August 14 from 6-9pm
11400 Euclid Avenue ( corner of Mayfield)
Cleveland, OH 44106
FREE PARKING in Triangle and Constantino's lot after 5pm.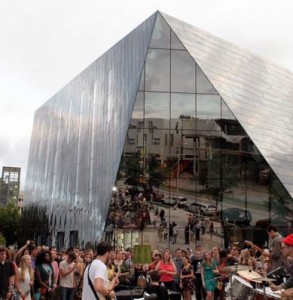 "Tonight we'll take a trip to the weird and the wonderful.  Playing will be Mayfield Strings, whose members perform in the Akron Symphony, the Cleveland Pops, the Erie Philharmonic, and the Ohio Philharmonic Orchestra… Mayfield member Tara Hanish has performed with Kanye West, The Foo Fighters, Smokey Robinson, and on The Grammys!"
[Then yours truly], A one-woman choir, Uno Lady creates soundscapes built from melodic loops. Her innovation and good-humored music recently earned her a Creative Workforce Fellowship. If you're delighted by the possibilities of melody, don't miss these forward-thinking performances!"
Katherine, of Maximum Consumption [and good friend of Christa Ebert] will be providing DJ services (Be sure to catch Katherine every Tuesday on 91.1FM WRUW from 5:00 – 7:00pm.)
About the event:
Throughout summer 2014, Museum of Contemporary Art (MOCA), Case Western Reserve University, and Cleveland Institute of Art present an innovative series of Thursday night events on Toby's Plaza that feature live music curated by Beachland Ballroom, food trucks, and interactive art experiences.
Before the music begins on three select Thursdays, MOCA invites communities to participate in a creative social action. These activities will honor the spirit of artist Corita Kent in both creativity and message.