Hello friends! Next Thursday, December 7th from 5-7pm, I'll be serenading you at Gallery W, which is on the first floor of the American Greetings building at Crocker Park. The show is free. I will be singing and DJing the event.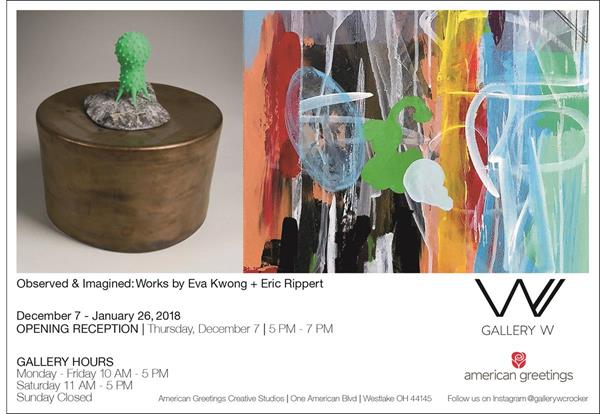 "'Observed and Imagined,' the upcoming exhibit at Gallery W, the public art gallery located on the ground floor of American Greetings Creative Studios world headquarters, showcases the pair's shared devotion to duality. The interconnection of inspiration between Kwong's sculpting and Rippert's photography and painting allows their pieces to play off each other to create an environment that is dreamlike and cinematic. The the public is invited to the opening reception from 5-7 p.m. on Thursday, December 7, 2017….
The opening reception will feature the harmonic sounds of the award-winning Uno Lady – One Woman Choir. "Uno Lady" Christa Ebert's unique musical style is haunting, captivating – and recently earned her a grant from Cleveland's Panza Foundation for local, independent musicians to allow artists "the freedom to pursue their craft with the best tools and opportunities possible." FACEBOOK EVENT PAGE
The next Uno Lady show will be Wintertide at Gordon Square  DEC 9th from 2-3 on the outdoor stage.