This Thursday, 8:30pm @ Happy Dog West, please come to a benefit show for the campaign to unseat Judge Aaron Persky.  The show is $8. There are raffle goodies graciously donated by local vendors (Blue Arrow Records, The Black Market, Cleveland Print Room, Salty not Sweet Boutique, & Voodoo Monkey Tattoo… to name a few).
Judge Persky sentenced Brock Turner to six months (he served only 3 months) in county jail for assaulting an unconscious woman outside a fraternity party, behind a dumpster. Prosecutors had asked for a six-year prison sentence, because this was "not typical assaultive behavior that you find on campus, but it is more akin to a predator who is searching for prey."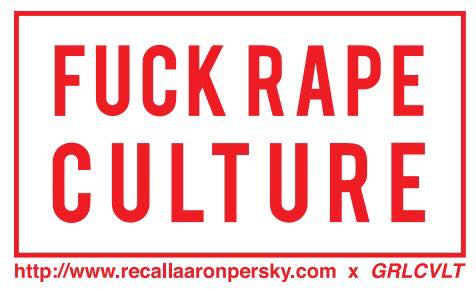 GRLCVLT PRESENTS:FUCK RAPE CULTURE
PERFORMANCES BY:
Uno Lady
Blaka Watra
Ouster
Old Brooklyn
Please come, support the cause, protect survivors, not rapists. Be a part of positive change and shaping the future!  
Related readings: 
How Women Are Planning to Unseat the Judge in the Brock Turner Case, Cosmopolitan, Aug 2016
Feminists Put Judge Aaron Persky On Trial, The Daily Beast, August 2016
Brock Turner released from jail after serving 3 months for sexual assault, CNN, Sept 2016
"'We don't know who picked him up or where he's going, but we're done with him,' Santa Clara County Sheriff Laurie Smith told reporters outside the jail. 'He should be in prison right now, but he's not in our custody.'"
Local principal to students: "Real men don't treat women this way,"  Fox 28, October 2016
(This is in reference to Drump's pussy grabbing statements but I found it very moving. The principal is my cousin and a stand up dude.) "Real men don't treat women this way. We don't talk about women this way. We don't cheat on our spouses. We don't force ourselves on women. We don't joke about assaulting women. We don't make light of assaulting women. We don't strategize about assaulting women. Rapists do these things, not real men."- Kline
Cleveland still has thousands of older rape kits to test, exact number is unknown, Cleveland.com, April 2016